YUKEN - proportional valves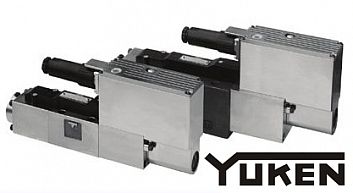 New series of proportional electrohydraulic directional valves ELDFG-01/03EH with OBE (on board electronics)
---
We are pleased to announce the release of EH series direct operated proportional electro-hydraulic directional and flow control valves ELDFG-01/03EH.
Two direct type models with a maximum rated flow rate up to 80 L/min (@ΔP = 1 MPa) are available. The addition of OBE to the well-received ELDFG series valves for simplified wiring offers simple operation and userfriendliness. With closed loop control based on a combination of newly developed compact, powerful solenoids and a LVDT for spool position detection, the valves provide high response, high accuracy, and high reliability equivalent to those of simple servo valves.
More information can be found in the products section.
http://yuken.cz/en/products/proportional-valves/eh-series/proporcionalni-hydraulicky-rozvadec-eldfg-01eh-eldfg-03eh-se-zpetnou-vazbou