Intelligent Hydraulic Servo Drive Pack - YSD
The IH (intelligent hydraulic) servo drive pack is a compact energy-saving and low-noise hydraulic device which is combined as one with the AC servo motor, piston pump, reservoir and hydraulic control circuit. This combination can control the number of revolutions of the servo motor and adjust the discharge and pressure of the pump. This device can be combined with the sensor – equipped cylinder and dedicated controller to facilitate the configuration of a position, speed and pressure control system.
energy saving
low noise
compactness
digital control
More information in atacched catalogue.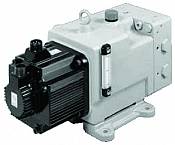 ---
Files for download
Inquiry form